List price
Discounted price
€0,00 EUR
Unit price
for
Discount
Out of stock
Monad Echo è un sistema per il gioco di ruolo che valorizza ambientazioni ben strutturate, mettendo in risalto le caratteristiche narrative dei Personaggi senza focalizzarsi sul "crunch". Il sistema favorisce una narrazione continua degli eventi ed esalta storie con protagonisti capaci e fortemente caratterizzati.
Questa SRD, distribuita in CC BY 4.0, offre tutto il sistema di gioco, commentato in ogni sua componente. Non si tratta di un semplice documento riassuntivo, ma un vero e proprio manuale d'uso che spiega nel dettaglio non solo le regole ma anche il loro utilizzo specifico e i principi di design che sono alla base del sistema.
All'interno di questo documento troverai:
Le regole dettagliate del sistema, adattabili a ogni ambientazione che vorrai creare e divise in tre categorie per meglio decidere quando e come applicarle.
I principi di design per progettare il tuo gioco e per seguire la "fisica di una storia", con regole ottimizzate per gestire la narrazione e la creazione condivisa del mondo di gioco.
Consigli ed esempi mirati, basati su tutti i giochi già pubblicati con sistema Monad Echo: Broken Tales, Valraven: Le Cronache del Sangue e del Ferro, Dead Air: Seasons ed Evolution Pulse Rinascita.
La SRD di Monad Echo è una guida completa e approfondita che ti guiderà per mano nella creazione del TUO gioco, che potrai liberamente pubblicare e condividere con la community di appassionati!
Share
View full details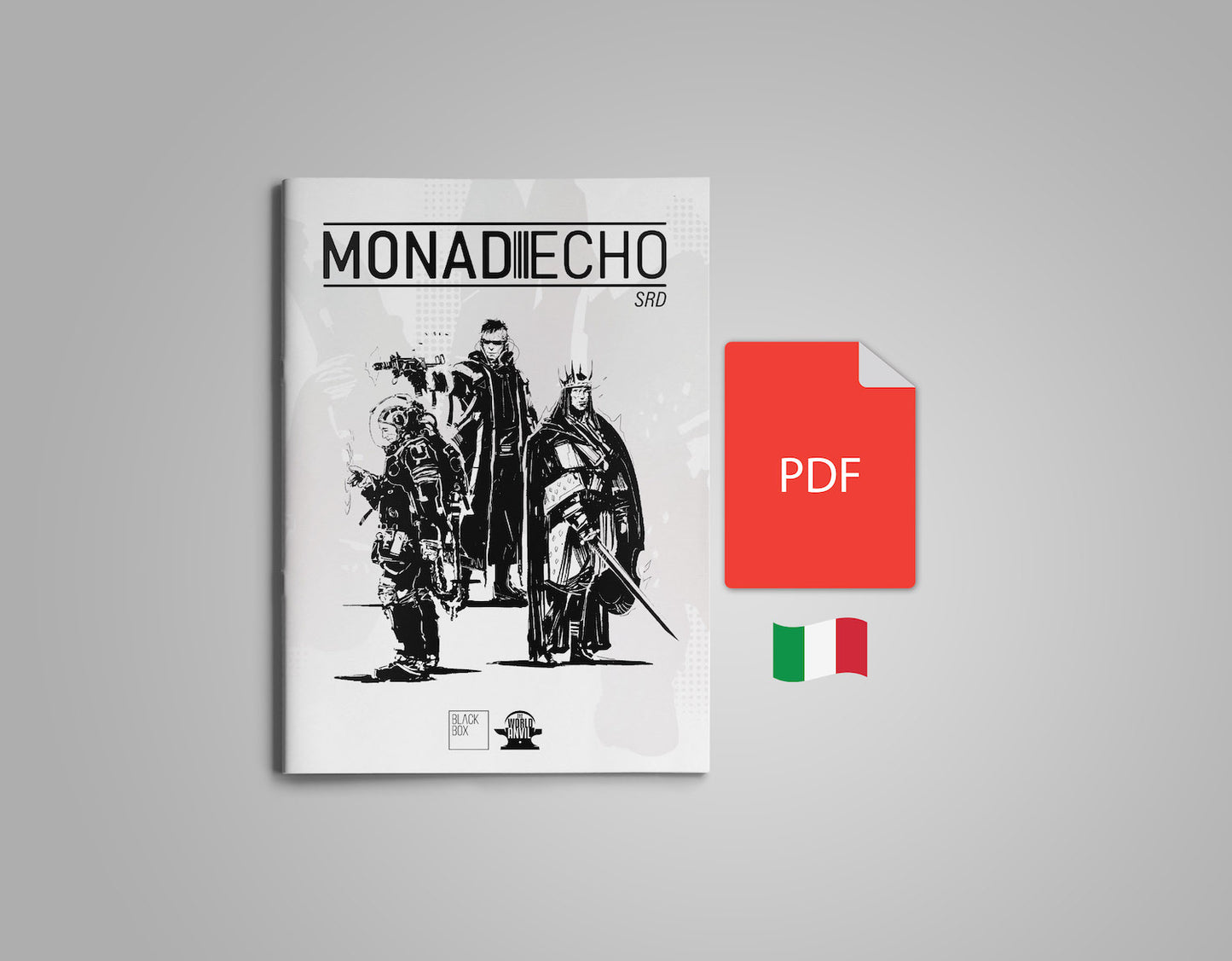 Free shipping on 80€+ orders (Italy only)

Place an order of at least 80€ (any combination of items) and shipping is on us!

Questions? Get in touch!

If you need any clarifications, contact us. We will reply asap!