List price
Discounted price
€15,00 EUR
Unit price
for
Discount
Out of stock
LINGUA: ITALIANO 🇮🇹
SUPPLEMENTO PER VALRAVEN: LE CRONACHE DEL SANGUE E DEL FERRO. INCLUDE PDF.
--
Il Libro dell'Eclissi espande il mondo di Valraven facendo luce su tutti gli aspetti più oscuri e feroci della guerra. Il manuale è diviso in quattro parti, ognuna dedicata a un diverso tipo di approccio al gioco e a caratterizzare pericoli e personalità che solcano i campi di battaglia delle terre di Valraven.
Parte I – Ruoli Extra:

L'Esarca, il Devoto e l'Esule, tre Ruoli aggiuntivi che grazie al successo della campagna Kickstarter entrano a fare parte ufficialmente del mondo di Valraven. Tre nuovi modi di intendere la guerra e tre nuove possibilità di personalizzazione per i vostri Personaggi.




La Parte II: L'Altra Faccia della Guerra

, ti permette di vivere il conflitto dalla parte degli invasori Darokar o al servizio delle oscure forze della Mano sull'Abisso. L'Altra Faccia della Guerra include regole e informazioni di background per vivere una campagna di gioco in cui non combatterai per la salvezza di Valraven ma per la sua distruzione. Inoltre, troverai approfondimenti e regole utili per caratterizzare meglio questi avversari nelle tue campagne classiche.



La Parte III, Il Mondo degli Spiriti, offre una panoramica approfondita sulla parte arcana dell'ambientazione, portando nelle partite oscure magie, e il potere e le conoscenze per creare potenti artefatti. Il tutto include un bestiario completo, che illustra gli esseri fantastici che hanno trovato posto nelle terre di Valraven.

La Parte IV, Venti di Guerra è un approfondimento sulle Fazioni di Valraven, con tabelle, scenari e PNG pronti all'uso e tanti suggerimenti su come condurre una Campagna di gioco dal punto di vista di ogni Fazione. Uno strumento utile a ogni Maestro delle Cronache per non trovarsi mai a corto di ispirazione.

Share
View full details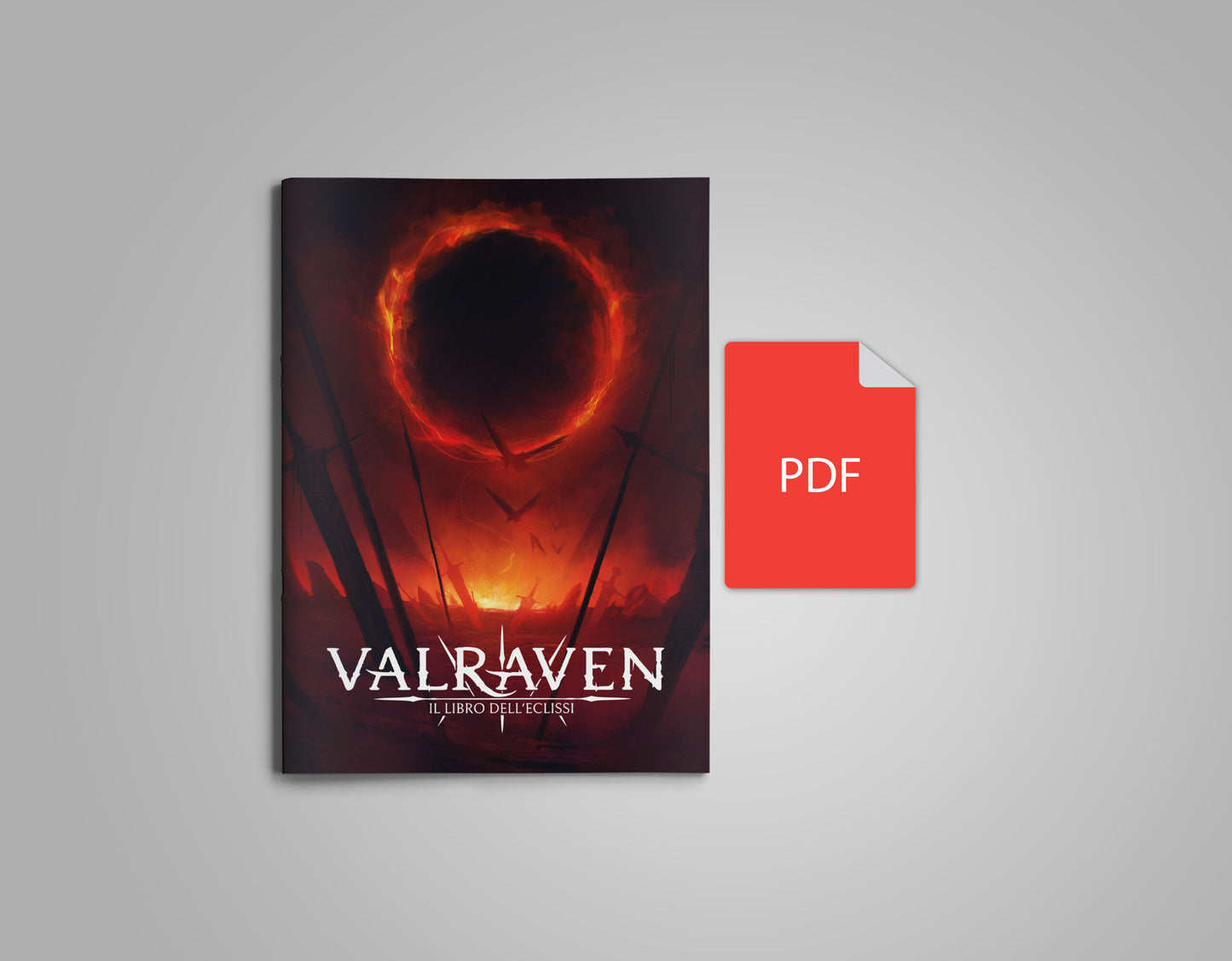 Free shipping on 80€+ orders (Italy only)

Place an order of at least 80€ (any combination of items) and shipping is on us!

Questions? Get in touch!

If you need any clarifications, contact us. We will reply asap!