List price
€39,00 EUR
Discounted price
€29,00 EUR
Unit price
for
Discount
Out of stock
LINGUA: ITALIANO 🇮🇹
CORE BOOK. PDF INCLUSO.
La guerra procede inesorabile da oltre settant'anni, coinvolgendo l'Impero di Erenwald e la Repubblica di Dormas in uno scontro fratricida che ha ormai dimenticato le sue origini. Mentre la Sacra Chiesa della Luce porta sostegno a entrambi i contendenti in cerca di terreno fertile dove far germogliare il seme della fede, dal lontano Est i misteriosi Darokar sbarcano sulle coste pronti a mettere a ferro e fuoco le terre di Valraven. Molti innocenti vivono e soffrono sotto il giogo di una o dell'altra fazione, piegati da una furia che non conosce pietà e che trova un pericoloso alleato nella lasciva Mano sull'Abisso, una forza demoniaca pronta a ghermire chi è così disperato da vendere la propria anima.
In questo scenario di guerra perpetua, giovani compagnie di mercenari decretano il successo di una o dell'altra forza in campo, forgiando il proprio destino nel sangue e nel ferro.
Combatterai per la Repubblica di Dormas o l'Impero di Erenwald? Ti farai sedurre dalla Mano sull'Abisso, piegherai il capo all'Unico Dio o ti farai scudo contro gli invasori Darokar che avanzano da Est?
--
Softcover, 16.8x24 cm, copertina a colori, interni in b/n, 312 pagine. Il Core Book (manuale base) di Valraven: Le Cronache del Sangue e del Ferro contiene tutto quello che ti serve per giocare:
Una introduzione al Gioco di Ruolo e alla terminologia usata in Valraven.
Le regole del Monad Echo aggiornate per gestire la giocata al tavolo in modo narrativo.
L'ambientazione completa di Valraven, che ti restituirà il sapore metallico di saghe come Berserk, Dragon Age e Le Cronache del Ghiaccio e del Fuoco.
Tutta la creazione dei Personaggi, che inculde otto Ruoli fra cui scegliere, e tutti i Doni collegati a 5 step di Background per personalizzare al massimo i protagonisti delle tue avventure.
Una sezione dedicata al Maestro delle Cronache, che ti spiega come gestire le Stagioni di gioco, le due modalità Battaglia e Missione, e in generale come ottenere il massimo dalle tue Sessioni di Valraven.
Share
View full details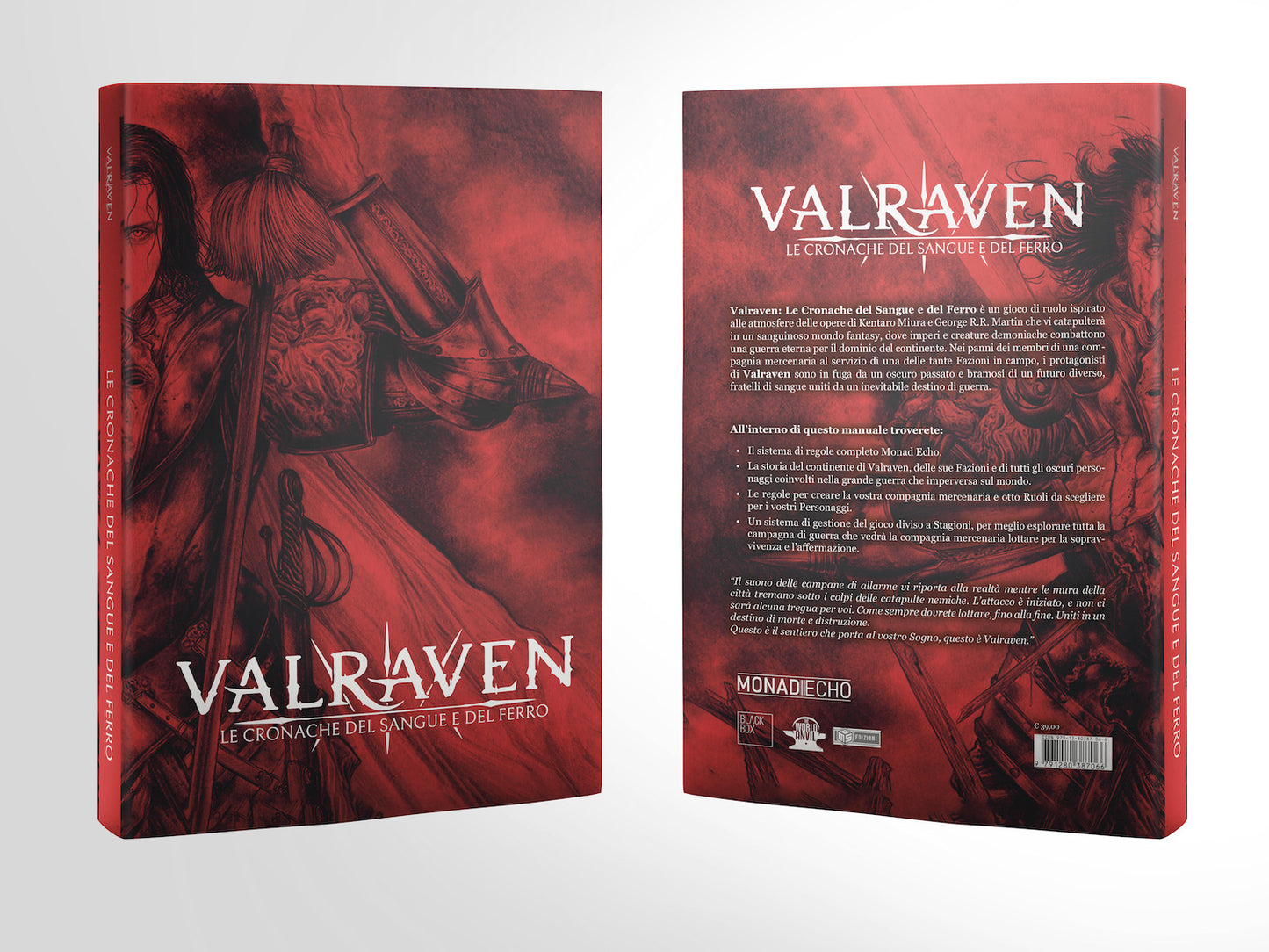 Free shipping on 80€+ orders (Italy only)

Place an order of at least 80€ (any combination of items) and shipping is on us!

Questions? Get in touch!

If you need any clarifications, contact us. We will reply asap!