List price
Discounted price
€55,00 EUR
Unit price
for
Discount
Out of stock
LANGUAGE: ENGLISH 🇬🇧 🇺🇸
CORE BOOK + VINYL JACKET WITH HUNTER SHEETS, PDF IS INCLUDED AND DOWNLOADABLE UPON PURCHASE

Please keep in mind that depending on your country's customs rules, additional customs fees may apply.

US customers: we have stock in the US and it will ship from US.
Once upon a time, a child saved the world of fairytales. His reward was a wish. The One who Plots in the Shadows saw an opportunity to tarnish the child's heart, whispering to him a corrupted idea. The child asked the King of Fairytales that the Villains, accursed for centuries, be granted a new life. This was to be their chance for redemption. This was how the Villains became good. But any light needs a shadow, and in turn, the Heroes became evil. At that moment, all fairytales were shattered.
Broken Tales is a tabletop RPG of dark stories, reinterpreting fairytales from an upside-down perspective. Players will become part of the Order, a secret group operating on behalf of the Papacy to investigate supernatural events beyond human comprehension. Moving through an 18th century Europe imbued with mysticism and horror, the main characters of Broken Tales are nothing less than the former antagonists of fairytales, thrown into a new world resulting from the wish of the Child Savior.
--
Hardcover (8.6"x8.6"), full color, 272 pages. The vinyl jacket includes 14 Hunter Sheets and a summary of the rules. In the Core Book you'll find:
Rules for both Players and Storyteller.
A rich section of insights and tips for the

Storyteller

.

Rules for creating custom Hunters and Scenarios from a reference fairytale.

The setting of Broken Europe.

Rules to manage a Broken Tales Campaign, and a deluge of story hooks and ideas.

10 ready-to-play Scenarios, based on classic fairytales such as Little Red Riding Hood, The Three Little Pigs, Alice's Adventures in Wonderland, and other works such as The Wonderful Wizard of Oz or One Thousand and One Nights.

All the sheets you need to play and a map of Broken Europe.

The Child Savior fairytale, which serves as the backdrop for the entire setting.
In the vinyl jacket you'll find:
A rules summary to be used as a reference at the table.

14 ready-made Hunters based on well-known fairytale villains: Baba Yaga the Child Witch, Babai the Judge, Garou the Old Wolf, James the Swordsman, George the Holy Dragon Slayer, The Immortal, The Woman of the Woods, Marina the Sea Explorer, Niklaus von Krampus, The Astonishing Piper without a Name, Regina the Thief of Hearts, Sun Wukong the Amazing Monkey, Verdoux Bluebeard and Yukie Onn the Wandering Artist.
Share
View full details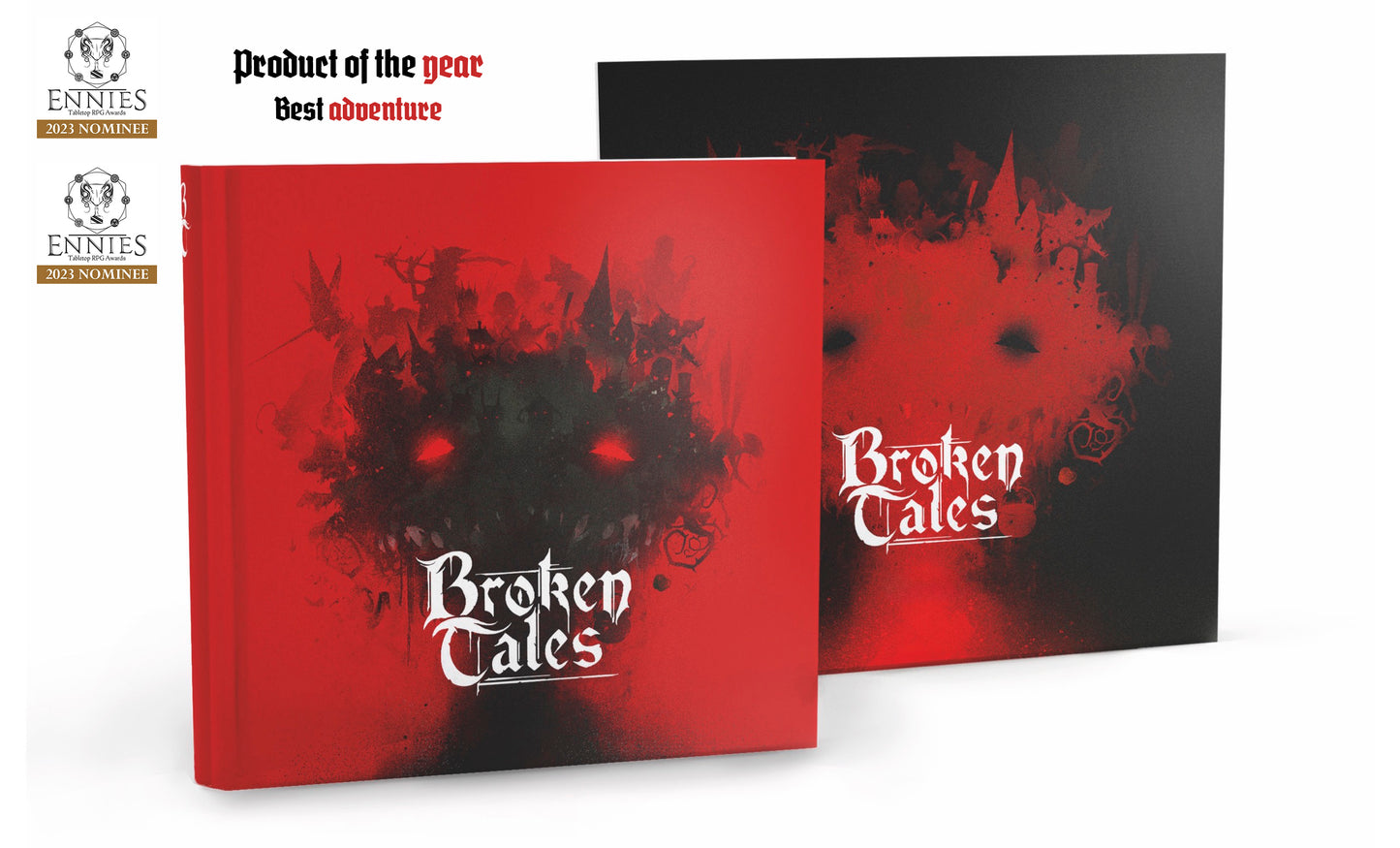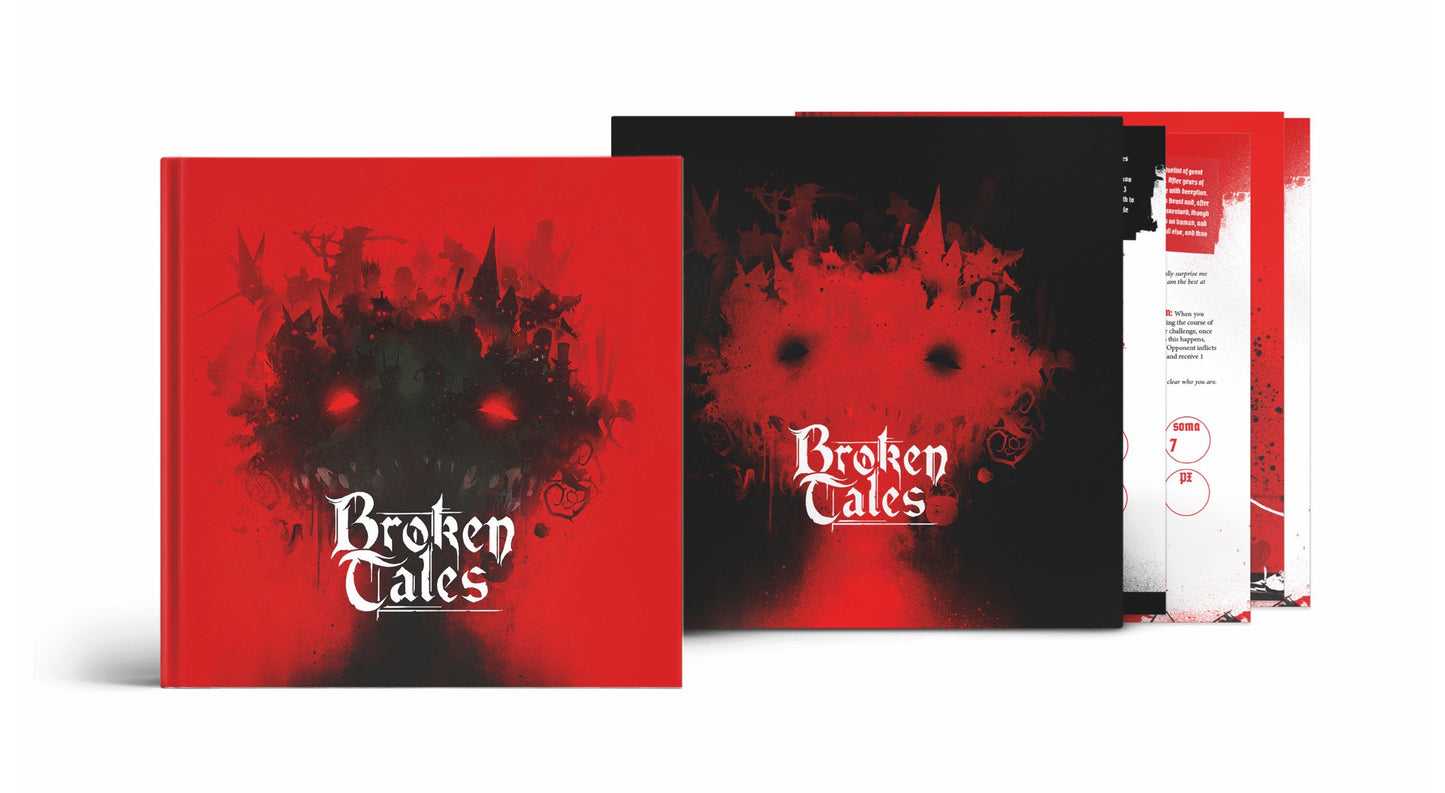 Free shipping on 80€+ orders (Italy only)

Place an order of at least 80€ (any combination of items) and shipping is on us!

Questions? Get in touch!

If you need any clarifications, contact us. We will reply asap!