List price
Discounted price
€0,00 EUR
Unit price
for
Discount
Out of stock
LINGUA: ITALIANO 🇮🇹
QUICKSTART

L'ecosistema della Terra era vicino al collasso quando venne creata Panacea, l'azzardata soluzione scientifica che avrebbe dovuto porre rimedio ai danni causati dalla specie umana. Ma giocare a fare dio ha sempre delle conseguenze imprevedibili: il miracolo si è ritorto contro i suoi creatori e ha scatenato un'apocalisse, conducendo l'umanità sull'orlo dell'estinzione.
Panacea, la soluzione ad ogni male, è diventata la Piaga, lo strumento attraverso il quale la natura intende riprendere possesso del mondo.
Calatevi nelle atmosfere di Dead Air: Seasons e provatene con mano il sistema di gioco!
Dead Air: Seasons, in arrivo l'8 Novembre su Backerkit Crowdfunding, è un GdR post-apocalittico che si focalizza sulle storie personali dei sopravvissuti, sull'esplorazione di un mondo che è cambiato per sempre, e sul tributo che la natura esige dall'umanità, dopo gli eventi scatenati dalla Piaga.
Se apprezzate la serie di The Last of Us, Station 11, The Road, Sweet Tooth, i Figli degli Uomini, Annientamento, o La Ragazza che Sapeva Troppo, Dead Air: Seasons è il gioco che fa per voi.
--

PDF, interni a colori, 63 pagine. Nel quickstart troverete:
Tutte le regole necessarie per darvi un assaggio del sistema completo di Dead Air: Seasons.

Railway, uno Scenario di gioco che continuerà poi nel materiale disponibile in campagna.
5 Personaggi pregenerati da utilizzare con Railway o con un altro Scenario di vostra creazione.
Share
View full details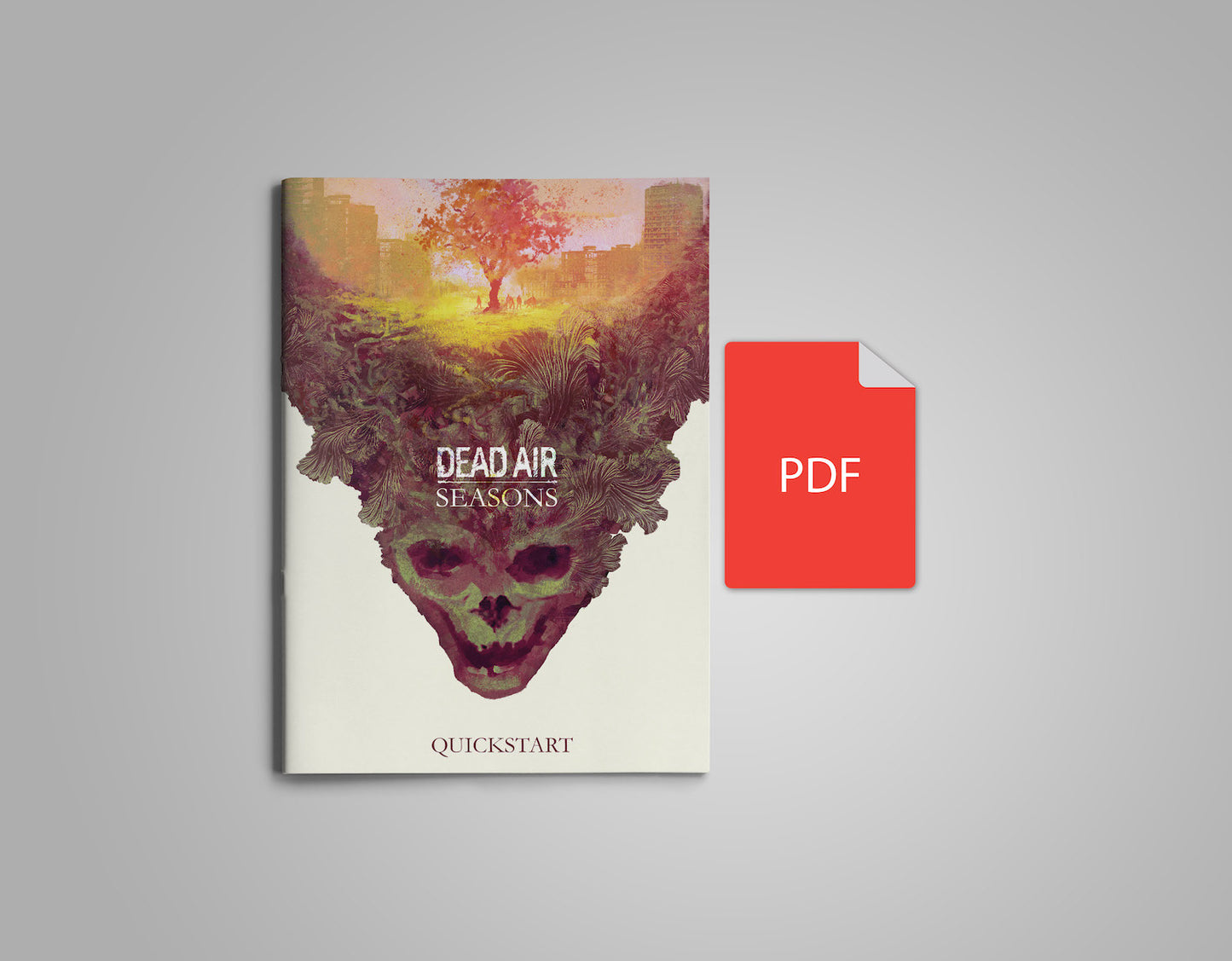 Free shipping on 80€+ orders (Italy only)

Place an order of at least 80€ (any combination of items) and shipping is on us!

Questions? Get in touch!

If you need any clarifications, contact us. We will reply asap!