List price
Discounted price
€5,90 EUR
Unit price
for
Discount
Out of stock
LINGUA: ITALIANO 🇮🇹 
ROMANZO. INCLUDE VERSIONI PDF, EPUB, MOBI.
Sei vite, unite fra loro da un legame invisibile. 
Sei razze, dotate di caratteristiche uniche.
Sei volontà, mosse dal desiderio di conoscere, amare, proteggere, vivere e sognare. 
Sei storie che si intrecciano in una danza macabra e beffarda, dove non sempre chi sopravvive può dirsi fortunato e dove chi muore, talvolta, lo fa con il sorriso sulle labbra.
Nostalgia: Requiem offre uno scorcio sulla vita all'interno delle Arche e sui loro abitanti. Uno strumento indispensabile per approfondire tematiche e atmosfere di Nostalgia: La Flotta Nomade ma anche una sfida autoriale, articolata in più tecniche narrative per offrire una visione d'insieme su questa affascinante ambientazione.
--
eBook (include PDF, ePub, MOBI), 192 pagine. Requiem è un romanzo in sei episodi intrecciati fra loro, ambientato a bordo de La Flotta Nomade. 
Mente Comune: Un Seroii appena nato, un Livello immerso nell'oscurità totale, una prima dura lezione su quello che significa sopravvivere alle Arche.
Cuore Spezzato: La comunità di un Rocciaferma cresciuto nel disprezzo per un suo peccato di gioventù si sta velocemente sgretolando. È tempo di sacrifici.  
Volto Eterno: Liora è una reietta scacciata dal Nido Rifugio di Nimesaan. Qual è la colpa che deve espiare e quante volte ancora la sua fiducia verrà tradita?
Via Dolorosa: Jei-Kaa, uno scienziato del SAJI, viene addestrato ed inviato su Ao-Sinna con l'importante missione di salvare Kirrin-Lan dal Grande Buio. Le sue speranze risiedono in una testa Zero II, forse l'unica rimasta intatta su tutta la Flotta…
Adorate Catene: Esiste un'Arca dove la Nera Madre regna sovrana, imponendo le sue Leggi a tutti i cittadini inermi. Ed esiste, a Kirrin-Lan, un passaggio per quest'Arca…
Zero Infinito: Una ragazza Humana affronta una missione per proteggere un misterioso bambino, viaggiando al centro del Grande Buio nella speranza di ottenere risposte, mentre entità oltre lo spazio e il tempo la osservano e la giudicano.
Share
View full details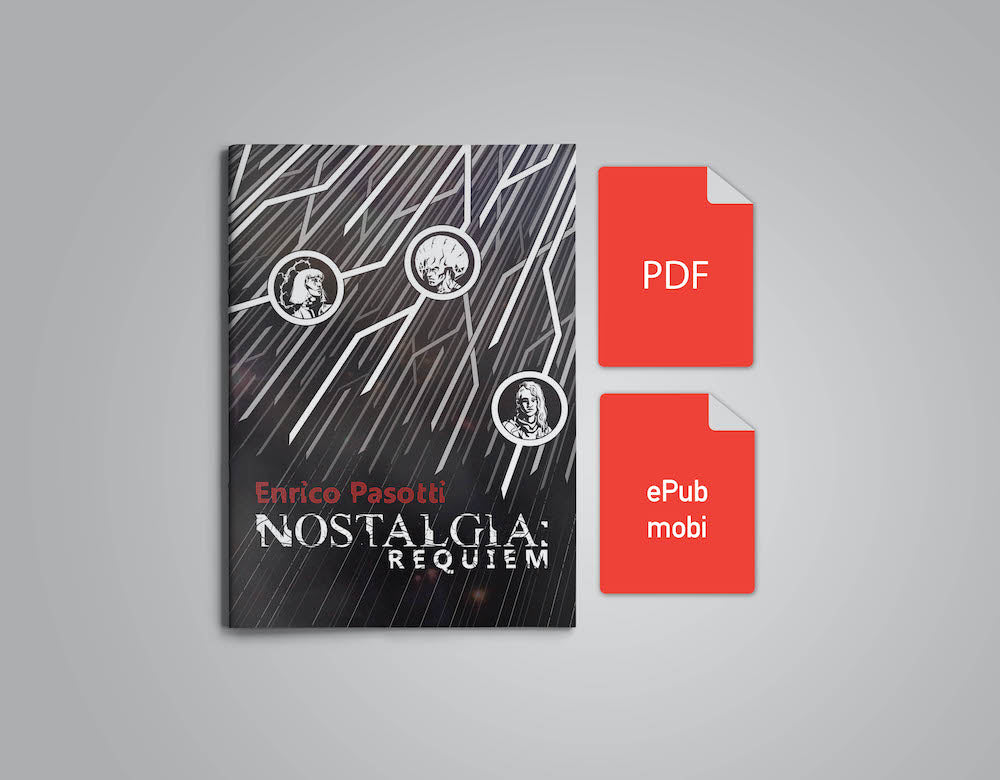 Free shipping on 80€+ orders (Italy only)

Place an order of at least 80€ (any combination of items) and shipping is on us!

Questions? Get in touch!

If you need any clarifications, contact us. We will reply asap!