List price
Discounted price
€0,00 EUR
Unit price
for
Discount
Out of stock
LINGUA: ITALIANO 🇮🇹
Vi fu un'epoca in cui l'uomo era padrone di questo mondo, prosperando in città e imperi. Finché si rivelarono i misteriosi Daeeva, oracoli di incredibile potere. Alla richiesta di quali divinità avrebbero favorito l'ascesa dell'umanità, le enigmatiche figure donarono al più grande di tutti i re il Kunuk Surrum, l'oscuro sigillo della realtà. Inebriato da un così immenso potere, egli aprì la nera scatola, portando al nostro cospetto il vero Imperatore. Fu così che scoprimmo coloro che riposano nei recessi del Sintum, l'eco del fato di ogni essere vivente. Il grande Imperatore ci mostrò l'essenza divina in tutto il suo potere, e ci fece dono dell'Igisum Duga, il soffio della nuova vita. Il mondo cambiò, e ogni terra conobbe il volto dei Divini Hekath, imperi crollarono e uomini perirono mentre ogni continente conosciuto andò incontro a una nuova e oscura rinascita.
Il Quickstart gratuito di Evolution Pulse Rinascita vi offre un sostanzioso assaggio del manuale completo, e contiene le regole per partire, uno Scenario da giocare e ben cinque personaggi pregenerati.
--
PDF, copertina a colori, interni in b/n, 70 pagine. Nel Quickstart troverete tutto quello che vi serve per iniziare con Evoluition Pulse Rinascita:

Le regole base del Monad Echo per gestire la vostra prima partita.
I pilastri dell'ambientazione di Evolution Pulse Rinascita, che vi faranno immergere in un mondo feroce ed antico.
Il Miracolo, uno Scenario pronto da giocare che, al servizio del Divino Ierofante, vi porterà ad esplorare la città di Teleskheta e i misteriosi personaggi che la popolano.
Cinque PG pregenerati, da utilizzare con Il Miracolo o uno Scenario di vostra creazione.
Share
View full details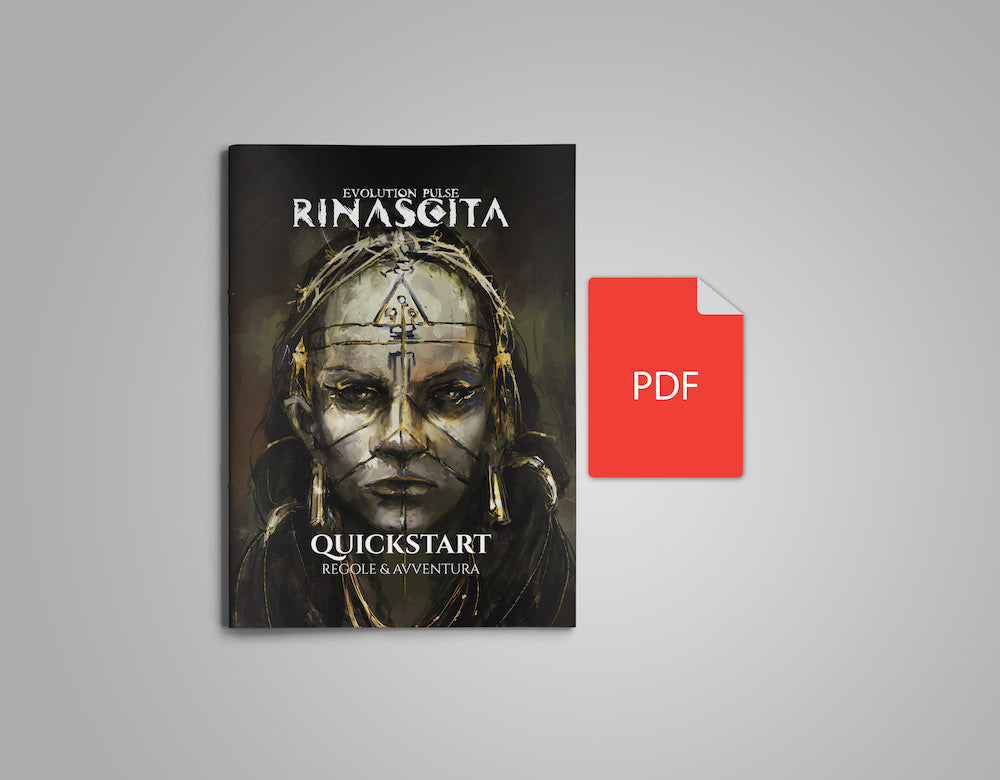 Free shipping on 80€+ orders (Italy only)

Place an order of at least 80€ (any combination of items) and shipping is on us!

Questions? Get in touch!

If you need any clarifications, contact us. We will reply asap!