List price
Discounted price
$12.00 USD
Unit price
for
Discount
Out of stock
LINGUA: ITALIANO 🇮🇹
CORE BOOK.

Vi fu un'epoca in cui l'uomo era padrone di questo mondo, prosperando in città e imperi. Finché si rivelarono i misteriosi Daeeva, oracoli di incredibile potere. Alla richiesta di quali divinità avrebbero favorito l'ascesa dell'umanità, le enigmatiche figure donarono al più grande di tutti i re il Kunuk Surrum, l'oscuro sigillo della realtà. Inebriato da un così immenso potere, egli aprì la nera scatola, portando al nostro cospetto il vero Imperatore. Fu così che scoprimmo coloro che riposano nei recessi del Sintum, l'eco del fato di ogni essere vivente. Il grande Imperatore ci mostrò l'essenza divina in tutto il suo potere, e ci fece dono dell'Igisum Duga, il soffio della nuova vita. Il mondo cambiò, e ogni terra conobbe il volto dei Divini Hekath, imperi crollarono e uomini perirono mentre ogni continente conosciuto andò incontro a una nuova e oscura rinascita.
Evolution Pulse Rinascita è un gioco originale, frutto della collaborazione fra The World Anvil e Black Box Games, basato sull'universo horror di Evolution Pulse. Un'ambientazione completamente nuova che re-immagina un mondo antico e oscuro, dove i potenti alieni Hekath sono divinità che comandano e guidano l'umanità. Questo manuale è completo di ambientazione e del Monad Echo, un nuovissimo sistema di gioco incentrato sulla narrazione continua e sul dare risalto alle caratteristiche salienti del mondo di Evolution Pulse Rinascita.
--
PDF, copertina a colori, interni in b/n, 300 pagine. Nel manuale troverete tutto quello che serve per giocare, ovvero:

Le regole complete del Monad Echo per gestire ogni singolo aspetto delle vostre sessioni di gioco.
Una esaustiva e ricca descrizione dell'antico mondo di Evolution Pulse Rinascita, e tutte le regole e le parole chiave per portare la sua vasta mitologia nelle vostre partite.
Dieci Caste tra cui scegliere per creare il vostro personaggio. Cinque legate al mistico Impero Hekath e cinque forgiate dalla furia e dal pericolo del mondo Selvaggio.
Un bestiario completo con le informazioni sui Divini Hekath, i potenti Miti e le Fiere, umani e animali corrotti dal Sintum fino a divenire pericolosissimi mostri e mutanti.
Regole facili e veloci per aiutare il Maestro del Sintum nella gestione della partita e nella creazione degli Scenari che affronterete con i vostri protagonisti.
Share
View full details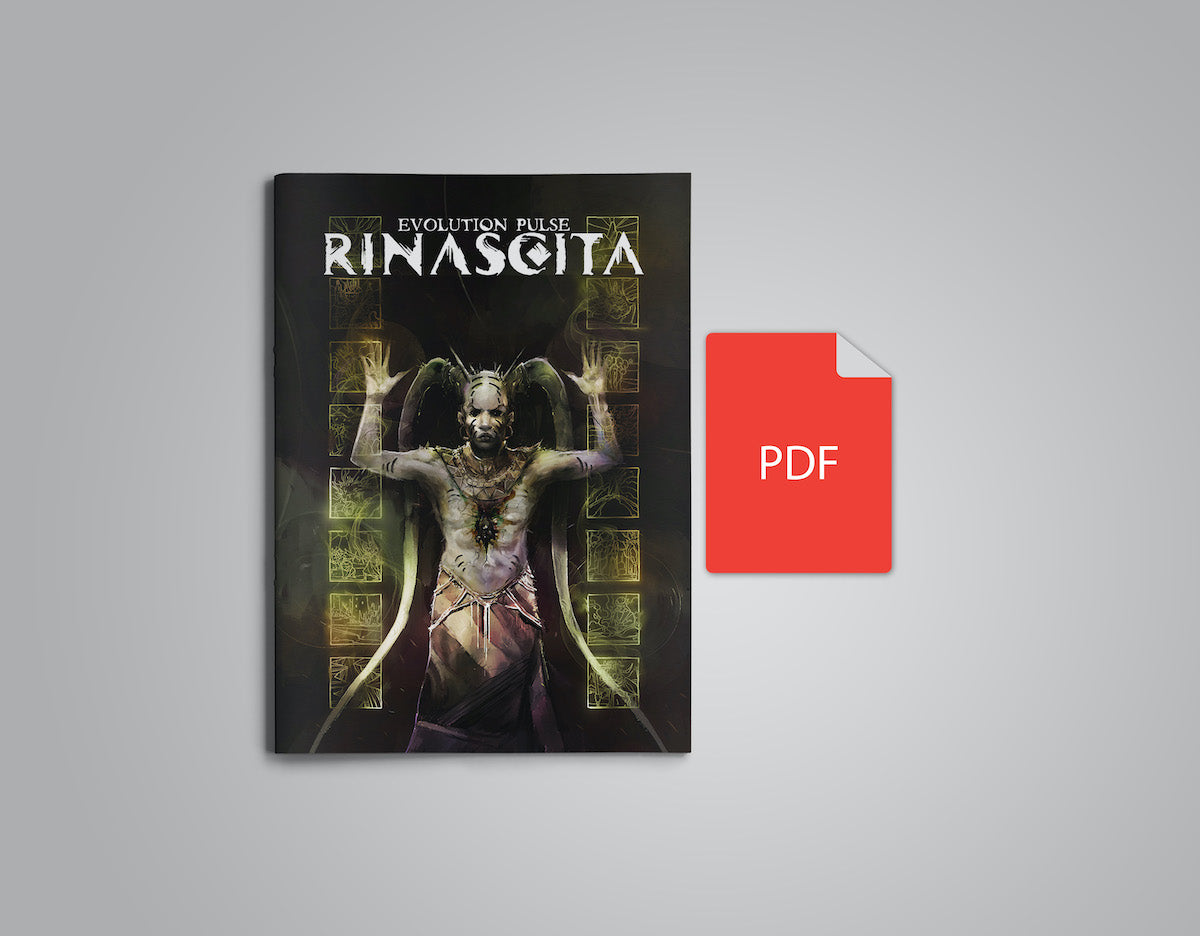 Free shipping on 80€+ orders (Italy only)

Place an order of at least 80€ (any combination of items) and shipping is on us!

Questions? Get in touch!

If you need any clarifications, contact us. We will reply asap!